LBC Mortgage vs Big Retail Bank
You deserve a mortgage experience that's anything but ordinary. While others may treat you like a number on a spreadsheet, we take time to create personalized solutions.
| | | |
| --- | --- | --- |
| Services | | Banks |
| No brokers fees | | |
| A one-stop solution | | |
| Personalized approach | | |
| Minimum paperwork | | |
| Access to over 80+ lenders | | |
Instant application
Don't Miss Out on a Better Mortgage Experience
Free Consultation with Mortgage Experts

Embark on your mortgage journey with confidence. Our experts will walk you through a personalized cost and benefit analysis, offering you an optimal mortgage solution.

Tailored Financing Reports for Optimal Rates

Our multiple loan scenarios are designed to fit your unique situation offering you the most favorable rates available.

Streamlined Paperwork Assistance

No more stress-filled application process. Relax as we handle the paperwork accurately, allowing you to focus on your mortgage journey.

Credit Score Improvement

Watch your credit score soar to new heights as we develop a winning strategy and equip you with practical tops to secure a good financing option.

A Multilingual Approach

Language is no barrier when you work with us. Our multilingual team speaks both: the language you speak and the language of understanding.

Continued Support for Your Real Estate Grant

Even after you've secured your mortgage, we're here for you. Get continuous support with updates on your home's value increase and refinancing possibilities.
Since 2008
About us
LBC Mortgage was born out of a simple goal — to assist our friends, co-workers, family members, and local residents. Founded by our visionary leader, Alex Shekhtman, we quickly earned a reputation as a trusted provider of top-notch real estate mortgage services. And we are getting stronger!
We take pride in recruiting only the best of the best — highly qualified professionals who are dedicated to serving you with excellence.
See Why People Choose Us

Raina A.
From Los Angeles, CA
Nurit, and the whole team at LBC Mortgage were a pleasure to work with from beginning to end. My buyers had a unique situation with their loan terms and Nurit and her team were able to get it closed with professionalism and on time. Nurit kept constant communication with me and all parties and was always available. I would definitely recommend Nurit and LBC mortgage to my clients in the future.

Michael V.
From Los Angeles, CA
I've been working with LBC Mortgage for the past 8 years. Done many transactions with them, Anastasia been helping me with all my transactions. She is super professional and knowledgeable with all mortgage products and processes, would recommend LBC to anyone.

Mariya S.
From Santa Monica, CA
Thank you Alex and Vasily for closing deal for my client! Guys were super responsive and did everything on time! Amazing team work

Patrick M.
From Norridge, IL
I had a great experience with LBC Mortgage and working with Vasily Pshenichnyy. He has been very responsive to all my questions/concerns and demonstrates strong knowledge of the process. He also has been very helpful with navigating through challenging situations/conditions. Will definitely be working with them with future business.

Ryan Nelson
From San Pedro, San Pedro, CA
I've closed over 4+ loans with LBC and will say they are the absolute best at overcoming challenges that most other mortgage brokers would give up on. Kevin has always been professional, knowledgeable, and helpful in getting my difficult investment property loans funded, even with non W2 income. Highly recommend them!

Anna G.
From Los Angeles, CA
It was a pleasure working with Alex Shekhtman and his team on another loan. They made it easy and painless. Very professional and efficient. I would gladly do more business with then. Thank you for a great service!

Galina S.
From Los Angeles, CA
LBC Team is now our Number One Team! Their service was impeccable! We really appreciated the detailed explanations and daily reminders throughout the whole process. Covid made a lot of things overwhelming and LBC team guides us through a process that eliminated a lot of stress and intimidation. The communication from the first call I placed to Alex, to the final loan doc signing was headache free. It was a pleasure to work with this team! They are extremely responsive and strive for the result, very professional and easy to work with! Our situation was not an easy one and with the energy and perseverance this team provided, we had received an excellent results with lightening speed! We really enjoyed working with them. Highly recommend LBC Mortgage team.
Celebrating Excellence
Our awards and the trust of our partners
Unlock the Doors to Your Dream Home with Our Home Buyers Course
Home Buyers Course
We get it — navigating the mortgage process can feel like a daunting task. But we got your back and ready to equip you with all the knowledge you need. Whether you are a first time homebuyer or simply feeling unsure about the experience, our content has got you covered.
Learn more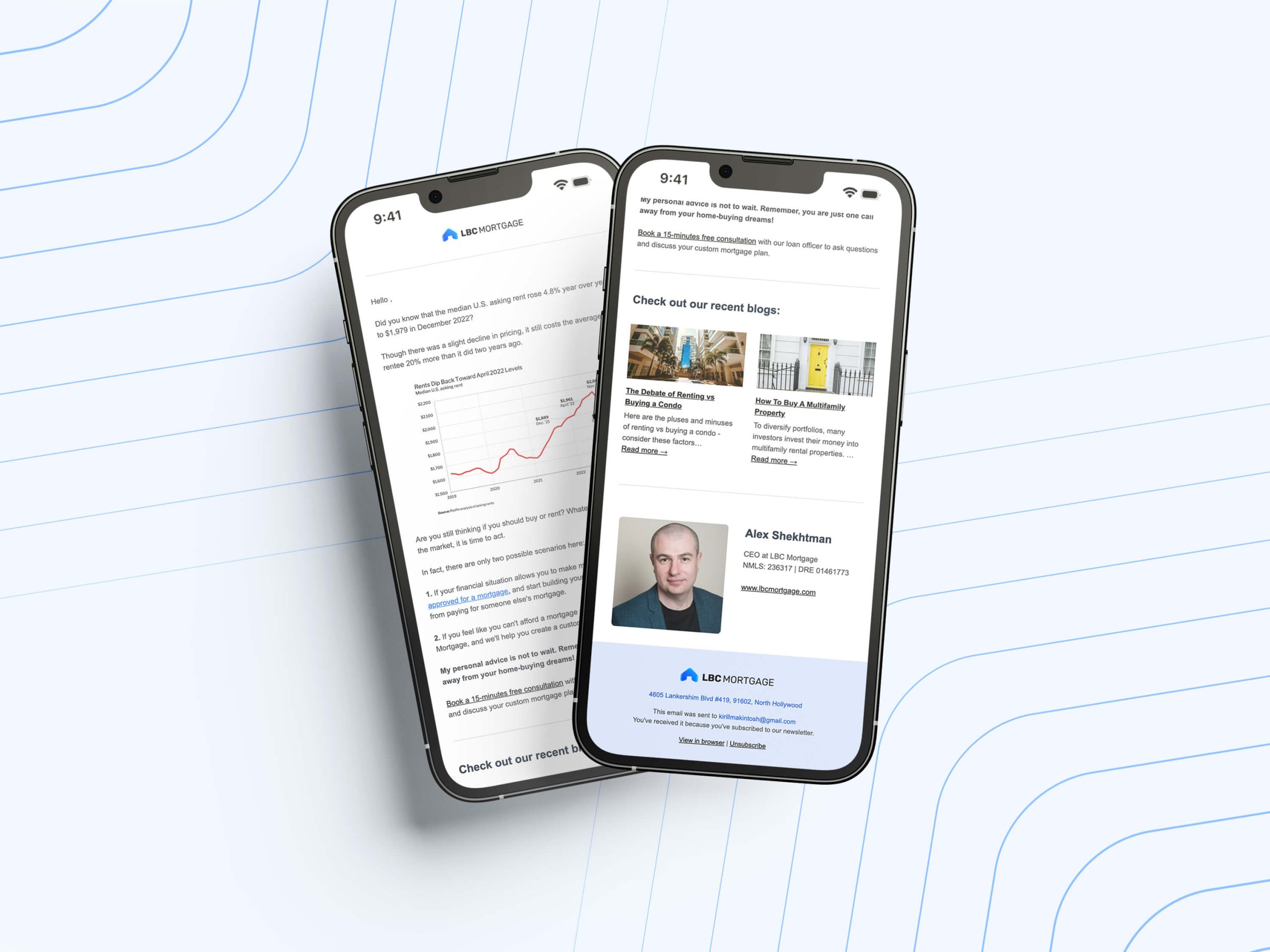 Subscribe to Our Newsletters and Get Your Free Guide to Smart Property Buying
1. How can I get pre-approved?

In order for us to issue a pre-approval for you, we would need to review your taxes, income and assets. Contact our office to get started.

2. What is an appraisal? Why do I need it?

An appraisal is an evaluation of property obtained from an independent certified professional. It is needed to help the lender to determine market value of the property you are purchasing, since the property will be used as collateral against the mortgage.

3. What are mortgage points?

One point equals one percent of your loan amount. Discount points are onetime fee that you may choose to pay to lower your interest.

4. What are closing costs?

Closing costs include fees for title insurance, escrow services and pre-paid interests, just to name a few. Once you open escrow, you will be presented with a list of estimated fees.
Connect with us
Whether you're buying a home or are ready to refinance, our professionals can help