Mortgage rates are on the rise after several weeks of relative stability, according to the latest data released by Freddie Mac.  "Rising interest rates are starting to have an impact on refinancing activity as well as homebuyers looking for lower mortgage rates," said Joel Kan, MBA's associate vice president of economic and industry forecasting. Now, the question remains: will mortgage rates drop in 2023? Many experts believe that they will, as the economy continues to recover. However, instead of waiting for the right time, there are also a number of factors to consider today to make a smart home buying decision. Let's learn how the current real estate market influenced home buyers' behavior, what rates to expect, and if you should wait or buy a property now. 
Mortgage interest rates overview
Rates have inched higher even as home sales have cooled in many markets around the country and as bond yields have come down from their recent highs. Mortgage applications fell 4 percent last week from the previous week, according to the Mortgage Bankers Association's seasonally adjusted index.
The 30-year fixed-rate average jumped to 5.66 percent with an average 0.8 points this week, up from 5.54 percent last week and 2.87 percent a year ago. The 30-year fixed average hasn't been this high since late June. 
The 15-year fixed-rate average increased to 5.15 percent with an average 0.7 points, up from last week when it averaged 5.12 percent. It was 2.61 percent a year ago. 
The five-year adjustable rate average ticked up to 5.36 percent with an average 0.6 points, compared with 5.35 percent last week and 3.11 percent a year ago.
Despite the recent rate uptick in mortgage trends, potential homebuyers may be encouraged by signs that prices may be stabilizing. So, here is how the purchase behavior has changed. 
How have mortgage rates influenced home buyers' behavior?
As a result of real estate market changes and instability, many home buyers have turned to adjustable-rate mortgages instead of fixed mortgages. 
An adjustable-rate mortgage, or ARM, is a type of home loan that begins with a fixed interest rate for a set period of time, usually 5 years. After that initial period, the interest rate will adjust annually based on current market conditions. Because ARM rates can fluctuate over time, they may be higher or lower than the rate on a traditional fixed-rate mortgage. However, they usually start out lower, making them an attractive option for homebuyers who are looking to save money in the short term. 
The main reason for such mortgages being popular today is that borrowing costs have swelled, and adjustable-rate mortgages offer more flexibility in terms of monthly payments. 
Also, lower interest rates of adjustable-rate mortgages played their role. And home buyers spend more time comparing offers from multiple lenders to get the best deal possible.
But according to experts, instead of comparing ARM rates, it is better to consider fixed-rate mortgage programs. Especially if you plan to stay in your home for the long term, a traditional fixed-rate mortgage may be a better option. Wonder why?
Why fixed-rate mortgages win
A fixed-rate mortgage is a type of home loan in which the interest rate remains constant for the life of the loan. This means that your monthly payment will never increase, no matter how long you stay in your home. This can provide peace of mind for borrowers who are worried about interest rates rising in the future. 
Fixed-rate home loans offer borrowers a degree of certainty that can be difficult to find in other types of financing. As interest rates fluctuate, borrowers with adjustable-rate loans can see their monthly payments increase or decrease, making budgeting difficult. On the other hand, fixed-rate loans offer a consistent monthly payment, making it easier for borrowers to plan their finances. In addition, if interest rates decline in the future, fixed-rate borrowers may be able to refinance their loans and lower their monthly payments. 
[su_spacer size="10″]
[su_note note_color="#ffffff" text_color="#000000″ radius="0″]Do you plan to buy a home? [su_button url="https://alexshekhtman.floify.com/apply-now" target="blank" style="flat" background="#0072ff" size="4″ radius="round" icon="icon: home" icon_color="#ffffff"]Apply now[/su_button] [/su_note]
When will mortgage rates go down?
So, will the mortgage rates be lower in 2023? Fannie Mae's recent housing forecast predicts that the rate on a 30-year fixed mortgage will fall to an average of 4.5% by 2023. This would be a welcome relief for potential homebuyers who have seen mortgage rates rise sharply this year.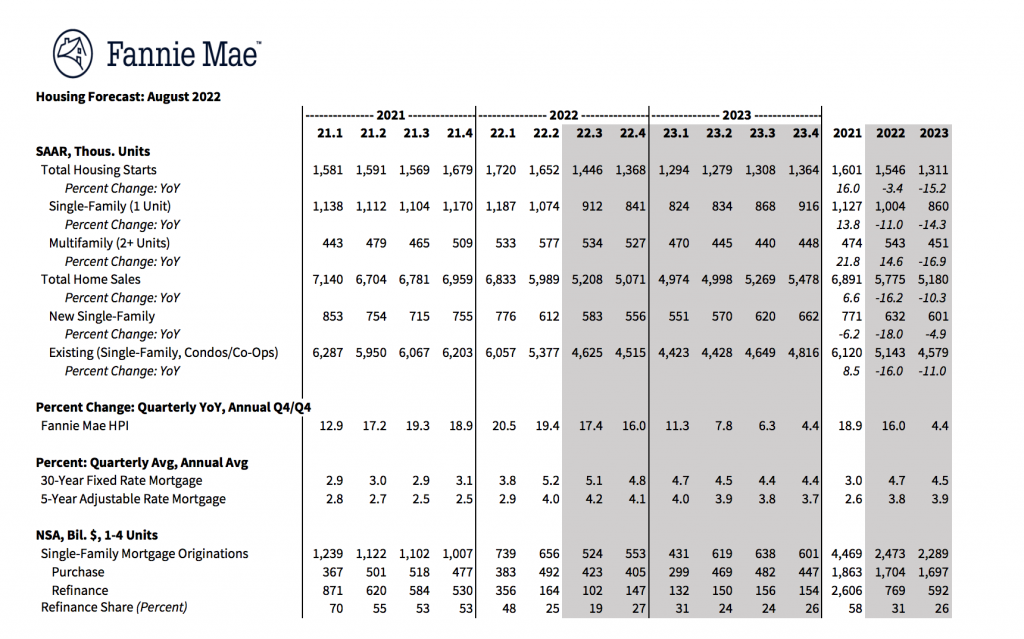 Image source: fanniemae.com
The current level of interest is a significant barrier for many buyers. A decrease in rates would help to make purchasing a home more affordable and could lead to increased demand in the housing market. 
But for those thinking of buying a home in the near future, waiting may be a tricky decision. And here is why. 
What's next: Should you buy a home or wait?
Despite projections that mortgage rates will decline next year, experts say there is no need for prospective homebuyers to delay their purchase in hopes of lower financing costs. 
While lower rates could translate into savings for some buyers, the monthly payment is just one part of the equation. Other factors, such as rising home prices and scarce inventory, could offset any potential benefit from a decline in rates. 
Another reason to consider buying a home as early as possible is building equity. Owning a home is a huge investment. It's not just the house itself, but also the land that it sits on. Over time, that investment can increase in value. That's what's known as equity.
While most people wait for the right time to come, someone has already started investing in their future and getting the benefits. The earlier you start building equity, the sooner you'll begin reaping the rewards. 
When you own a home, the value of the property can go up for a number of reasons. The real estate market may rebound, or you may make improvements to the property that make it more valuable. Whatever the reason, increasing equity can be a big financial benefit. 
So, experts say that anyone who is thinking about buying a home should not wait for mortgage rates to decline further. Instead, they should focus on finding a property that meets their needs and budget before someone else beats them to it.
Conclusion
Today, with increased mortgage rates, many people are wondering if now is the right time to buy a home. There is no easy answer to this question, as each person's situation is unique. However, one thing is clear: if you find a home you like and can afford to buy it, it is better to use this opportunity now, instead of waiting for the perfect time to come. 
[su_spacer size="10″]
[su_note note_color="#ffffff" text_color="#000000″ radius="0″]Are you ready to buy a dream home? [su_button url="https://lbcmortgage.com/contact-us/" target="blank" style="flat" background="#0072ff" size="4″ radius="round" icon="icon: home" icon_color="#ffffff"]Contact us[/su_button] [/su_note]
The current market conditions are unlikely to last forever, and waiting could end up costing you thousands of dollars in the long run. If you're thinking about buying a home, the best thing to do is consult with a qualified mortgage professional to learn more about your options.