Do you dream about the property in California? Let us help you decide whether California is right for you in terms of costs. In this article, we will take a closer look at the state of the real estate market for 2022 and general trends. 
Moreover, we will find the best solution for buying real estate, as there are many mortgage lending programs at the moment. Now they are available literally to everyone. So even if real estate prices in California upset you at the moment, do not rush to conclusions.
[su_spacer size="10″]
California housing market overview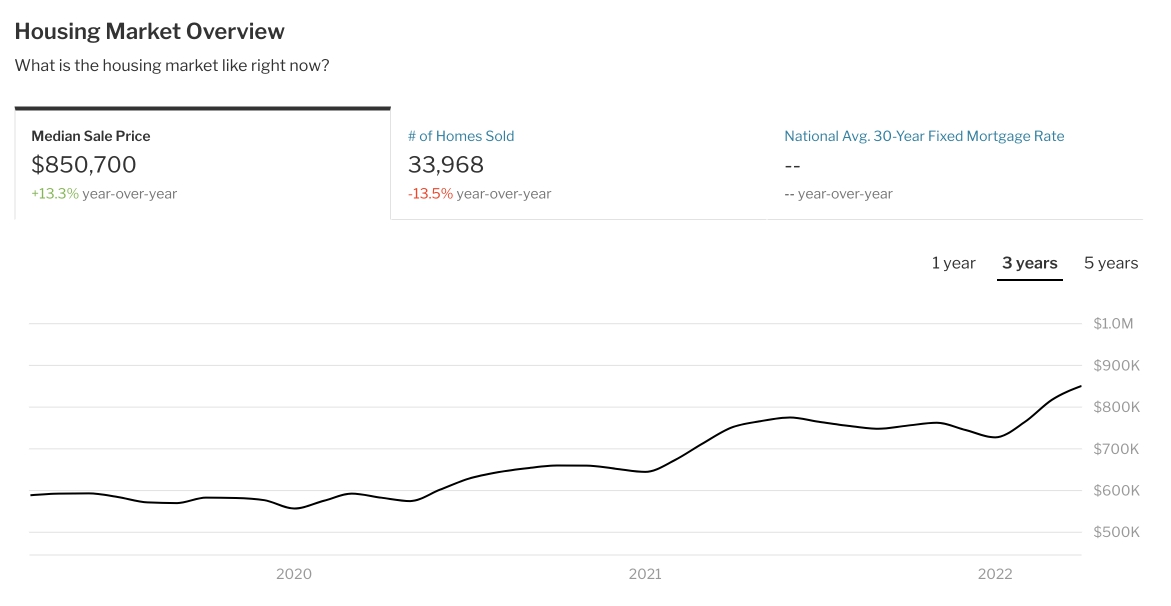 image source: redfin.com
The California housing market continues to grow as buyers enter the market in anticipation of higher mortgage rates. Last year, the market exploded, breaking all records.
At the state level, California's housing market remains the most valuable in the nation, with a total value of $9.24 trillion as of last December, more than one-fifth – 21.3% – of the national total, according to Zillow.
The March price was 11.9% higher than the previous March when it was $758,990. The median price increase, as a percentage month-on-month, was the fastest since March 2013, and the 10.1% increase from February marked the first time in nine years that prices had risen more than 10% monthly. The pace of sales in March increased by 0.5% compared to the previous month.
The cost of housing in California has been rising, which has affected its affordability. Only twenty-five percent of California households could afford to buy a house at an average price of $797,470 in the fourth quarter of 2021, up from 24% in the third quarter of 2021, but up from 27% in the fourth quarter of 2020.
These trends show us that California's housing market remains very competitive.
The growth in sales is driven by low mortgage rates, the desire of buyers to increase living space, and the constant shortage of housing. Homes sell quickly with minimal price reductions. The statewide sale price to list price ratio was 103.9% in March 2022 and 102.2% in March 2021. If it is less than 100%, the house is sold at a price below the list price.
Strong demand across California's sub-markets means low inventories and lightning-fast market conditions aren't going away anytime soon. There are not enough houses for sale to meet the demand of buyers. The California Unsold Inventory Index (UII) was flat year-on-year at 1.7 months in March, the first time in almost two years that the index hasn't declined year-on-year. The index indicates the number of months it will take to sell the offer of houses on the market at the current level of sales.
[su_spacer size="10″]
What is the average price of a house in California?
As we said, California's median home price topped $800,000 in April, and demand isn't dropping. California's median home price broke last month's record and set another one in April when the state's median price rose more than 34% from a year ago. The median home price for the state rose 7.2% to $813,980 in April from $758,990 in March and 34.2% from $606,410 registered in April last year. 
All major regions set new record median prices in April, with each region up more than 20% year-over-year. The Central Coast region continued to post the highest annual growth of 40.8%, followed by the San Francisco Bay Area (35.6%), Southern California (28.6%), Central Valley (25.5%), and the Far North (22.8%).
April's price per square foot was a record high of $383. The price per square foot was $284 in April 2021.
Incidentally, the average number of days it took to sell a California single-family home hit another all-time low of 7 days in April, up from 13 days in April 2020.
According to CAR's forecast for 2022, the US gross domestic product will grow by 4.1% in 2022 after a projected growth of 6.0% in 2021. The unemployment rate will fall to 5.8% in 2022 from 7.8% in 2021. In 2022, the average 30-year fixed mortgage rate will be 3.5%, compared to 3.0% in 2021 and 3.1% in 2020, but will still be low by historical standards.
[su_spacer size="10″]
Best mortgage programs to buy a house in California
Buying a property can be a real challenge. Fortunately, we offer many loans and grants for the purchase of a home. Here are a few of them:
If you are self-employed or have different sources of income that are not always consistent, this program is for you. 
Requirements are more than simple: 2 years of self-employment verified through CPA or business license, a low number of NSF or O/Ds, 12 months of mortgage or rental history, and 3-month reserves.
This is a great alternative to conventional home loans since there's no personal income required to qualify.
What are the requirements? A minimum credit score of 680 and be able to make a 20% down payment.
The approval with the VOE loan program is much faster than with a regular loan or an FHA loan. You will need a credit score of at least 680 and a 20% down payment on the house.
Requirements: 2 years employment history with the same employer, your employer must fill out a verification of employment form, and 6-12 month reserves.
This one suits everyone. But it is recommended to work with a professional lender such as LBC Mortgage to find out more and check how much you are eligible for.
According to the survey, only 30% of adults believe that now is the right time to buy a home. But despite higher mortgage rates, most analysts believe that house prices will continue to rise. While Americans may be pessimistic about the current state of home buying, now more than ever, real estate is the best long-term investment.
[su_spacer size="10″]
Sum up
What are the California real estate market forecasts for 2022? The California housing market continues the trend of the last few years as it is one of the hottest markets in the US. Supply constraints and higher home prices will see California home sales decline slightly in 2022, but deals will still show the second-highest level.
Low rates and housing shortages are contributing factors to the statewide median price set a new record for three consecutive months from June to August. Changing sales mix is another variable that continues to drive up median prices as sales growth for more expensive properties continues to outpace sales growth for more affordable peers.
[su_spacer size="10″]
[su_note note_color="#ffffff" text_color="#000000″ radius="0″]

Ready to buy a house?

[su_button url="https://alexshekhtman.floify.com/apply-now" target="blank" style="flat" background="#0072ff" size="4″ radius="round"]
Get pre-approved

[/su_button] [/su_note]

[su_spacer size="10″]