What are the top cities in the United States to invest in the property?
It's one of the most important questions to ask if you're thinking of investing in real estate in 2022. It doesn't matter if you're doing it for the first time or want to expand your existing portfolio – the well-known phrase "location, location, location" might help you boost your chances of a successful deal.
Many experts believe that real estate prices will continue to rise through 2022.
Nevertheless, other analysts expect that the real estate market will not go through the same kind of instability that homebuyers faced in 2021 (rising house prices, bidding wars, low inventory – it all made it an eventful year for all of us). 
The fact that the market may calm down is fantastic news for real estate investors.
[su_note note_color="#0072ff" text_color="#ffffff" radius="1″]Interesting fact: In 2021, the average house spent only 47 days on the market. This fact alone implies that properties may continue to sell like hotcakes in some cities in 2022.[/su_note]
So, let's waste no time and go through everything you need to know about potential investments properties and, finally, the list of the best cities for real estate investments in 2022.
[su_spacer]
Why Investing in Property – 6 Key Reasons To Consider
Not a secret that there are numerous benefits when investing in real estate. Which? Well, investors may enjoy stable cash flow, good returns, tax advantages, and diversification with well-chosen assets.
"Ninety percent of all millionaires become so through owning real estate." – Andrew Carnegie.
[su_spacer]
Here are some of the most important reasons to invest in real estate:
Investing in real estate can help you increase your monthly income. You may rent out your space to renters whether you invest in commercial or residential real estate. You will thereafter be paid monthly in the form of rent checks.
If the value of the property you own rises over time, you can sell it for a good profit. But keep in mind that appreciation isn't guaranteed. 
You'll need to invest in the good property to see significant returns.
If you sell your property for more than you paid for it, the profit will not be taxed as income but as capital gains (which have lower tax rates than income). 
Moreover, if you invest in opportunity zones – communities that are in need of investment – you'll pay even less in capital gains.
Having real estate in your investment portfolio expands your diversity, which can protect you during economic downturns. Consider that some stocks are suffering as a result of economic turmoil. 
Your portfolio's investment properties may still be rising in value, protecting you from the losses in your other investments.
Investment properties provide much-needed passive income, which you do not have to work for every day. 
Landlords grow rich in their sleep, they say 🙂
Other than financial benefits, owning investment properties has other advantages. For example, many investors find it satisfying to be their own boss when they own investment real estate. 
You may also make a difference in your community by attracting companies to commercial properties that will give much-needed services to local neighborhoods.
[su_spacer]
How to select the place to invest in property
Deciding to buy an investment property it's not an easy decision itself. But when it comes to choosing a location – things get much more tricky.
Finding the perfect location for your property – it's one of the tasks that may determine the success of your investment overall.
The type of tenants you'll get might be influenced by the location of your property as well. So, if you want an investment property that will provide high rental returns for the near future, you should pick an area that is favorable among the renters.
Now, let's jump to the tips which will help you decide where to buy your investment property:
It will save you time which you would spend on exploring unfamiliar towns or suburbs. That also means that you clearly understand the types of renters that live in the region. 
If you're thinking about buying outside state lines, we recommend hiring a buyers' agent.
Contact a buyer's agent in the region where you want to invest. It is preferable to work with a local buyer agent since he or she will be familiar with the area. Speak with the real estate or buyer's agent about what people liked or disliked about the property or area. You should even have an accountant on your staff to advise you on tax matters.
Stay updated about development changes
Find out whether there will be any infrastructural improvements in the area. It may influence the type of renters and the property's value in the future. 
Contact the local municipality to check if any development projects are in the process. Then, speak with the locals to find out how they feel about those projects.
Check the most recent vacancy rates in the area you've chosen. It's wise to invest in places with low vacancy rates since it ensures your home won't be unoccupied for long between renters. 
Conversely, a location with a high vacancy rate makes it more challenging to sell in the future. 
The demand for rental homes is determined by their closeness to amenities such as malls, schools, gyms, etc.
Always have an independent pest and building inspection done. A professional inspector will provide you with a full report on your property.
Decide on your investing strategy
Are you looking for a property with capital growth potential or one with high rental yields? If you want to profit from rental yields, the location of your investment property should be one that tenants like.
[su_spacer]
6 Best Cities to Invest in Real Estate
Finally, let's talk about cities that will be a good choice for investment in real estate in 2022.
1. Jacksonville, Florida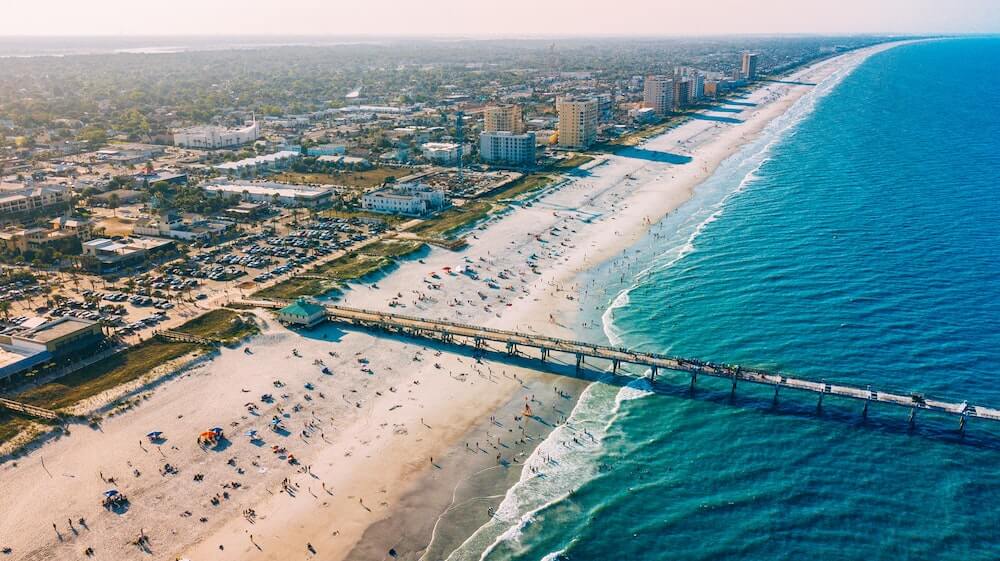 Because of its fast-rising population and higher-than-average appreciation rate, the Jacksonville metropolitan area is one of the top areas to invest in real estate in 2022. Houses in Jacksonville sell for an average of $315,000 and rent for $1,709. However, in some neighborhoods, more cheap homes with higher rents are available as well. 
We think that Jacksonville is one of the country's most significant real estate investment areas. Why so? The cost of living is lower than the national average, and a wonderful climate together with a business-friendly atmosphere make it a great area to invest in. It is worth mentioning that it also has a lower real estate tax rate than the national average.
If you're a real estate investor looking for great appreciation and consistent income flow, investing in Jacksonville will be a good idea.
2. Ocala, Florida
Ocala, located in North Central Florida, has a solid real estate market for 2022. It offers affordability, a consistent monthly cash flow, and rapid equity growth. The population is also growing fast, which indicates that housing prices and rentals will continue to rise in the future years. 
The average property value in Ocala now is $219,957, with average rentals of $1,366. It's possible to find even cheaper investment houses that will generate higher rents.
Ocala is a fantastic area to live for nature lovers, horse trainers, and people who seek a small-town lifestyle close to Florida's major cities. In addition, Ocala is a wonderful area to invest in if you're searching for a $200,000 investment property that can provide consistent monthly cash flow. 
For all of these factors, we believe Ocala will be one of the finest cities to invest in real estate in 2022.
3. Orlando, Florida
Orlando's housing market is expected to remain strong in 2022. Its population has grown at an unusually rapid rate, and the labor market is dynamic as well. The typical property cost in the Orlando metro region is $333,000, and the median rent is $1,850. It's also feasible to find even more affordable prices in certain districts, as well as lock in comparable rents.
Orlando also has a fast-rising population driven by job seekers, baby boomer retirees, and students who want to live in a "cheap and cheerful" neighborhood that provides a good standard of life at a reasonable price. In addition, there are various theme parks in the surrounding area, including Universal Orlando, Walt Disney World, the Magic Kingdom, and Epcot.
4. Houston, Texas
Houston is one of the top cities to invest in real estate. This city is the center of the US oil and gas sector, and it provides year-round jobs opportunities. 
Greater Houston is Texas' fifth-largest metro area, with over 7 million residents, and its population is growing at over double the national average. It is home to 53 Fortune 1000 companies, placing it third in terms of concentration behind New York and Chicago.
These powerful macroeconomic factors are still driving the Houston housing market. The typical house is worth $412,000. Given the property values, the rental revenue of $1,550 is quite modest.
The fact that Houston has a very active real estate market, on the other hand, makes it an excellent investment location. Trade volumes are strong, and housing stock is moving quickly. This implies that it is quite simple to exit investments and find a buyer for your house.
5. Spokane, Washington
With a population of about 213,000 people, Spokane in Washington State is a small city with a growing real estate market. House prices are pretty low compared to the rest of the country, with a typical price of roughly $265,000 that provides excellent mortgage coverage. 
Spokane houses are selling faster than houses in Seattle. Spokane's best places for renters are mainly on the north side (north of Garland street). Spokane Valley and Liberty Lake are also appealing areas that are constantly expanding.
6. Seattle, Washington
Seattle, Washington enters our list of the finest cities to invest in real estate for those who can afford it. Seattle has a strong economy and a booming job market. This indicates that rental units will likely remain high in price. 
The city's population has rapidly increased in recent years, with families attracted to the city's lifestyle. As a result, housing prices have more than doubled in the last five years, rising at double the national average rate since 2016.
The tech landscape and real estate market in Seattle is changing super fast. For example, Google has just increased the size of its new Seattle campus. Facebook also has been actively hiring in the Seattle region, notably for its virtual reality arm Oculus, which is expanding rapidly in Microsoft's backyard of Redmond. For more information about mortgage loans in Washington click here.
[su_spacer]
Conclusion
Now that you've picked where to invest in real estate, it's time to find out how to do it right. Income-producing rental properties are one of the greatest investments you can make, but only if you know what you're doing. 
Here at LBC Mortgage, we can help you to choose the right mortgage program that will help you to increase your profit by saving your money.
If you're looking for real estate investment opportunities in 2022, get in touch with us today!
[su_note note_color="#ffffff" text_color="#000000″ radius="0″]Are you ready to invest in real estate?  [su_button url="https://lbcmortgage.com/get-quote/" target="blank" style="flat" background="#0072ff" size="4″ radius="round" icon="icon: home" icon_color="#ffffff"]Get a free consultation[/su_button] [/su_note]